A Guide To Visiting The Amish In Lancaster, PA - Amish Country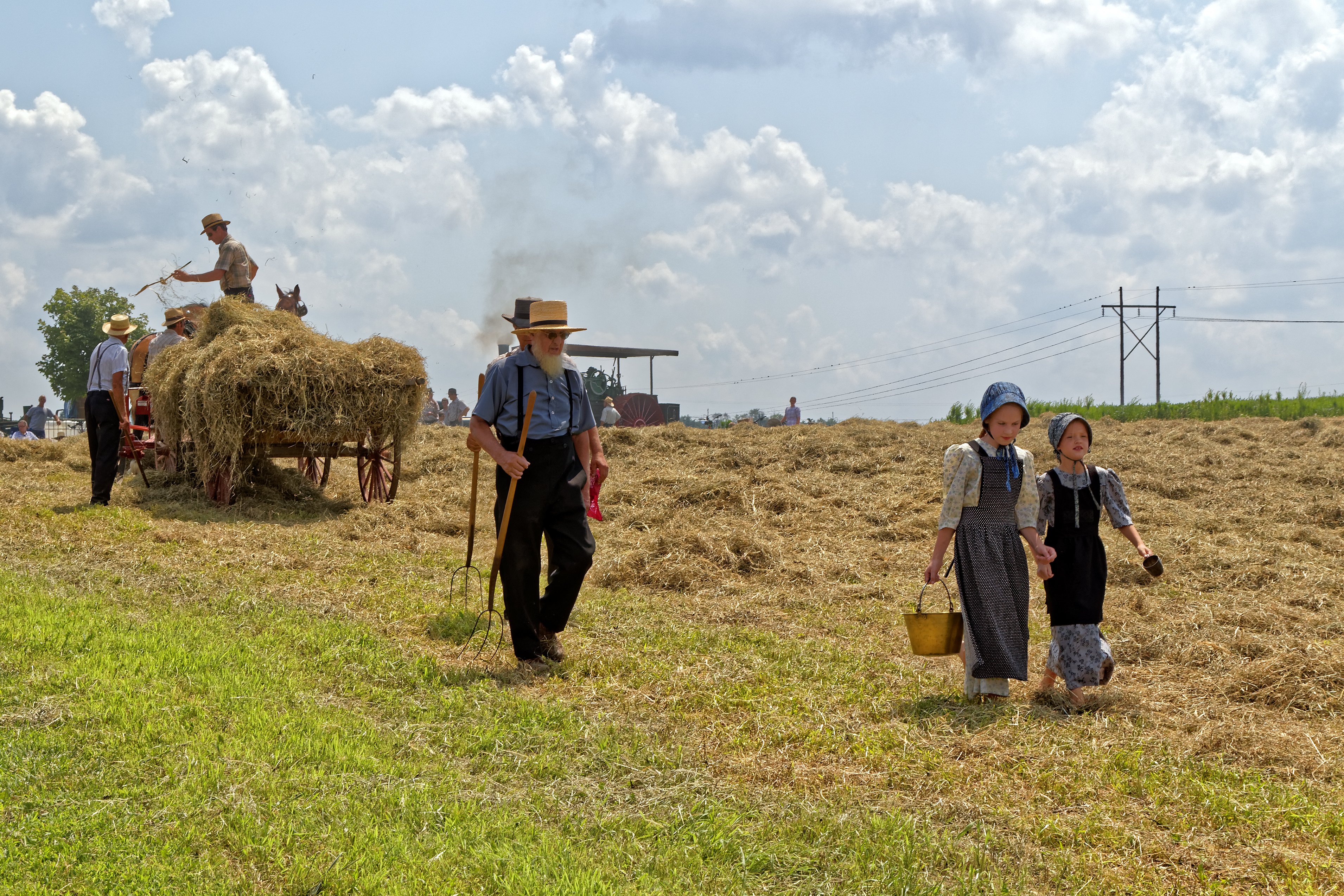 Lancaster, PA, is home of the largest Amish community in the USA. The Amish community here is also the oldest such community in the country. The Amish arrived in Lancaster in the 1720's, escaping persecution in Europe and seeking a better life for themselves and their families. In Europe, they had been persecuted for their conservative Christian faith, but in Pennsylvania, they would thrive.
Amish beliefs are notable for a commitment to humility, harmony, and community. To preserve these values the community turns away from individualism and pride as threats to their community. To that end, the Amish do not look at themselves in mirrors or take photos, since these activities can encourage pride. For the same reason, they dress plainly.
To protect their community and unique way of life, the Amish isolate from other communities and do not use modern technology such as TVs, cell phones and the internet. Modern technology is seen as the first step out of the community. Even transportation for most Amish is by horse-drawn buggy or by scooter instead of cars. Cars are seen as a way to leave the community. However, this is not the case for all Amish communities. The Amish are made up of the New Order, the Old Order, the Beachy Amish and Amish Mennonites. The Beachy Amish and Amish Mennonites can use some modern technology, including cars.
The Amish govern their lives by order, or by what they know as "Ordnung." To maintain order and their way of life, they stay away from technology and remain close to family geographically. They do not wish to assimilate into the surrounding way of life, but they do interact with outsiders, which they call the "English" for commerce and even sometimes for jobs.
The Amish speak English fluently, but they also speak a German dialect known as Pennsylvania Dutch. The term Dutch is used to describe this dialect because it is derived from the word "Deutsch," which means "German" in German language.
Amish country in Lancaster County has many farms, since farming has traditionally been the center of life for these people. In addition, the Amish rely on carpentry, construction, sewing, and baking to make a living. These communities have their own retail shops, which are accessible to tourists. Some Amish community members work for the "English" in factories or in other businesses.
Your Guide to Visiting Amish Country in Lancaster
There are many Amish attractions in Lancaster, PA, and many unique experiences. Here are four examples.
1. Buggy Rides
Amish buggy rides allow you to take a winding country route through Amish farmlands and by Amish properties. During the ride, your guide will explain and help you learn about the culture and history of the Amish in Lancaster County. Many buggy rides include a stop to purchase Amish products or a stop for lunch.
2. Tours
Tours of Amish schools and homesteads give you a glimpse into a unique and beautiful way of life. Some of these tours allow you to eat dinner at an Amish farmhouse or to stop by milking time. Private tours may also be available, and some offer customizable options, so you can focus on the parts of culture, history or geography that interest your group the most.
3. Foods
Amish bakeries, farm stands, food tours, and smorgasbords or markets let you taste delicious Amish traditional food. Traditional Amish food is hearty and based on recipes that have been passed down from one generation to the next.
Be sure to try Dutch apple dumplings, butter noodles, scrapple, soft pretzels, shoo-fly pie, smoked cheeses, Dutch cabbage rolls, corn soup, chipped beef, pot pies, doughnuts, apple butter, cured meats, chow-chow, preserves, and other local treats. They can even wrap up some of these goodies for you to take home.
4. Furniture and Other Goods
Amish craftspeople are known for crafting beautiful quilts, furniture, and other related items. Lancaster has shops dedicated to handcrafted goods, and stopping by an Amish quilt shop or Amish store is one way to get a one-of-a-kind memento of your trip while also supporting the local communities.
If you are lucky enough to be visiting between February and May on a Saturday, you may be able to visit a mud sale. Amish communities host mud sales to raise money for volunteer fire companies. They're a great way to support local artisans while also buying beautiful local and hand-made items.
Amish quilts, furniture and artisan items are prized because they are an authentically local option, often made from local materials. Amish products are also usually handmade. Amish quilts, for example, are not only beautiful, but they're often hand-stitched. In many cases, sewers leave one tiny imperfection in these quilts as a reminder that only God makes things perfect.
Amish furniture and other items are often made with pneumatic or hydraulic tools. The wood or other materials are carefully selected, and no laminate or particleboard is used. For this reason, Amish furniture, gazebos, and other items are considered a "green" choice. They are also known for their high quality and made to last, usually using traditional building techniques.
While Amish furniture and other products are made using traditional techniques, you can choose from painted and more ornate blanket boxes, simple gazebos and everything in between.
Where to Stay in Lancaster County Near Amish Community
If you are planning to travel to Lancaster County and want to experience Amish culture, the Warehouse Hotel is conveniently located inside the Spooky Nook Sports complex. You can enjoy a modern hotel experience steps from the area's attractions, including local sporting events and Amish country.
Our friendly staff can help you find local events and attractions and answer any questions. The Warehouse Hotel provides all guest rooms with plush, hypoallergenic bedding, free Wi-Fi, free parking and an on-site restaurant open daily for breakfast, lunch, and dinner. Book a room today and prepare to enjoy all the area has to offer!