How To Make Your Hotel Room Romantic For Valentine's Day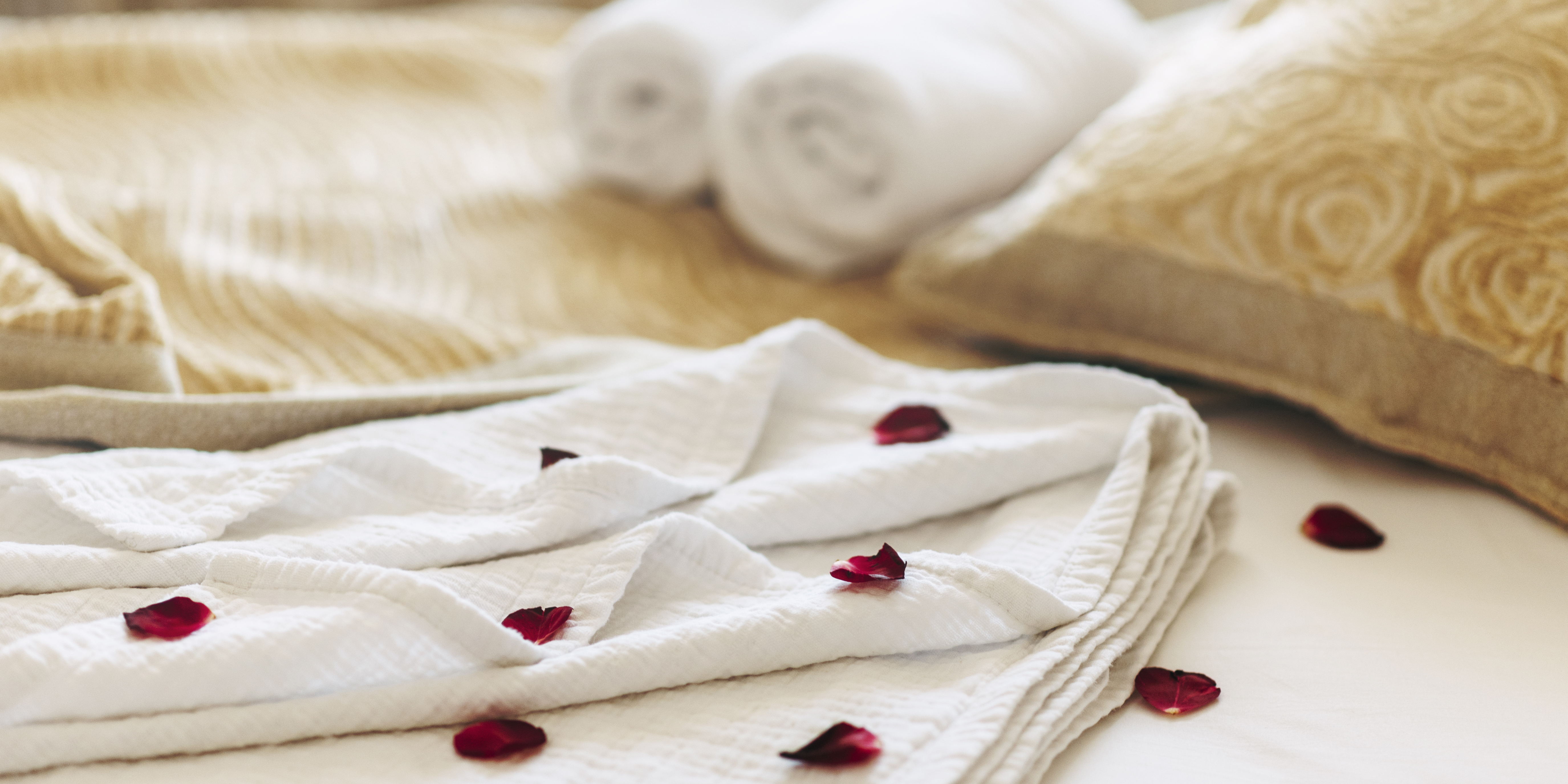 One of the most popular things to do for a Valentine's Day celebration is to book a hotel room. Hotels are a special experience that can give time for you to spend with just those who are special to us. Even if a hotel doesn't have exactly what you are looking for, there are plenty of way to spruce up the place all on your own. Check out some tips on how to romanticize your hotel room for that special someone.
1. Light Some Candles

Paul Hollywood once said, "the way to every woman's heart is through her stomach", but, the statement should be altered to her stomach and her nose. There is no woman who doesn't love candles. The beautiful scents and pretty colors all come together for a good vibe.
Candles are a great way to create mood lighting which can change up the hotel room scene very quickly. Humans are very affected by light and low light tells our bodies it is time to relax. When candles are lit and no other lights are on, our minds and bodies switch to a relaxation state where we can focus on our partner and what is going on around us. The low light and scent combination is a sure win for a romantic night. Here are some more ways you can incorporate candles in romantic dates.
2. Play Some Music
Music can enhance your mood ten-fold. Whether you're sad, angry, happy, or excited, music has a certain way of replicating your feelings. Upgrade your hotel room by adding some nice speakers and putting on some music that both you and your partner enjoy. Quiet love songs and serenades are an easy choice when it comes to setting the mood.
If you're looking for a guarantee that your partner will like the music you choose, make a date out of choosing songs. You could both sit and create a playlist together for your night out. This will bring you closer together as well as build excitement for your Valentine's night.
3. Sprinkle Flower Petals
When you think of Valentine's Day, you think love. When you think of love, you think red. When you think red, you think of roses and when you think of roses, you think of rose petals. Rose petals and flower petals are essential to any Valentine's Day romantic gesture.
There are many different ways that you can arrange the flower petals. You could go for the classic pathway to the bed, make a heart shape, or sprinkle a few on the top of a filled tub. Whatever way you decide, your flower petals will amplify the romance and tranquility you are looking for.
4. Bring Some Bubbles

If you choose to put some rose or flower petals on top of a full bath, chances are you want that bath to be bubbly. Packing a favorite bubble bath or soaping scent can add to the amazing smells you are already getting from your candles.
Bubble baths are not just romantic. They offer actual health benefits that you might as well take advantage of. Baths help you relax and let go of stress. Being in warm water can have calming affects, brighten your mood, and make you feel comforted and secure. There are other health benefits to taking bubble baths, but for this special night, you can just focus on the relaxation part.
5. Leave Notes

Leaving notes all around (handwritten of course) is a surefire way to bring a smile to your loved one's face. Love notes tell your partner that you appreciate them, think about them, believe in them, and love them. You can hide notes in the hotel bed, under a pillow, on the TV, on the fan, literally anywhere you think of. Some can be hidden and others can be obvious. Either way, when they are found/noticed, you can both share some laughs and smiles.
Leaving notes doesn't have to be set aside for a special event or only done on holidays. You can leave notes anytime. This will keep your romance alive through everyday life. If you're looking for hiding location ideas in your home, check this list out.
These tips aren't the only ways you can magnify the romance in your hotel room for Valentine's Day, but they can give you a good place to start. Even if many hotels don't have anything special in place for Valentine's Day, you can always call and ask them to help you with your set-up or your ideas.
If you're looking for a relaxing night in a hotel this Valentine's Day, book with us! Our hotel staff is super friendly and very accommodating. You could also consider making reservations for our Forklift and Palate Restaurant's Pre-Valentine's Day Dinner on February 11th, and capping the night off with a relaxing stay in the hotel.