How To Pack For Every Type Of Trip - Everything You Need to Pack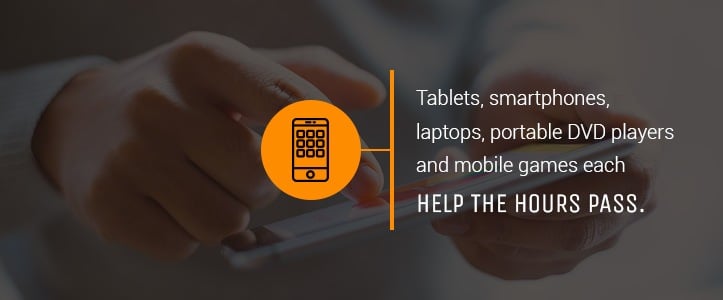 Traveling is not one-size-fits-all. Trips vary depending on transportation, destination, duration, climate, and purpose. For instance, you might be gathering your family to go on a relaxing cruise or convincing your friends to go on a cross-country road trip. Either way, preparing for these trips will have similarities and differences. The following guide reviews everything from how to pack for a bus trip to what to pack for a cruise, so continue reading to prepare yourself for your method of travel.
Types of Trips
We separated the types of travel into four main categories — cruises, domestic, international, and road trips. But what makes packing for a domestic flight different from packing for an international flight? And what essentials should you bring on a bus tour? Whether you are going by air, water or road, you can pack your suitcase or duffel bag effectively with these tips.
What to Pack for a Road Trip or Bus Tour
Road trips are a relaxed traveling option where, if you're traveling with companions, you will probably take turns at the wheel and listen to endless hours of your favorite radio station or podcast. These trips involve occasional naps — not when you're driving, of course, car games, navigation and more — but that's the fun of them. The rise in American road trips is due to the benefit of stopping whenever and wherever you want along the way.
Maybe you're planning a meticulous itinerary for your road trip, or you're hopping in the car with friends on a whim. Packing for your particular road trip will likely focus on coziness and convenience. Bring options with you that will make your small car space a place of enjoyment.
Bus tours are a similar situation, but your space is somewhat smaller, and your companion group is larger than traditional road trips. One focus of bus tour packing can also be entertainment, but a bus setting can mean your space for snacks, blankets, and other added amusements is limited. While road trips may allow a for a little more of a relaxed pace, you need to be ready for more of a sightseeing schedule when on bus tours.
Whether you're going by car or bus, consider packing the following items for your travel on the road:
1. Mobile Entertainment and a Charger
If you're traveling with a group for your road trip, you will likely switch drivers. When it's your turn to ride in the passenger seat, make sure you won't have to stare at pavement out the window the entire time. Mobile entertainment is the go-to option for car rides. Tablets, smartphones, laptops, portable DVD players and mobile games each help the hours pass.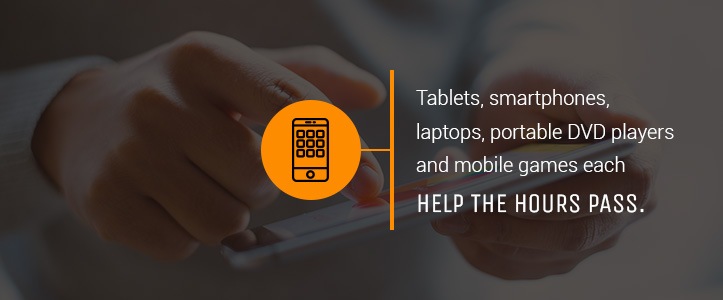 It's also possible to catch up on your favorite TV shows on the road since most are available for download and viewing offline. Pack your preferred mobile device for your trip and remember a charger or back-up battery. Consider investing in car adapters for phone and laptop chargers to keep the entertainment going longer.
2. GPS and Back-Up Directions
Portable GPS devices and smartphones can help you navigate through unfamiliar territory. They guide you through traffic jams and re-route you for better road trip paths — but they can also present problems when you lose the signal or bad weather interferes. It's possible to be dependent on GPS or another of the many available navigation apps, possibly to the point of impairing your sense of direction, so familiarize yourself with old-school navigation as a backup plan. Pack a hard copy map and a printed version of your directions in case any glitches happen, or your map app fails you.
3. Snacks
Traveling in a car or bus allows you to stash your favorite snacks. Drop by the store before your road trip to stock up on the items you know you and your family or friends will enjoy the most. Buying your own snacks makes your road trip more affordable, and you won't need to make extra stops to satisfy your cravings along the way.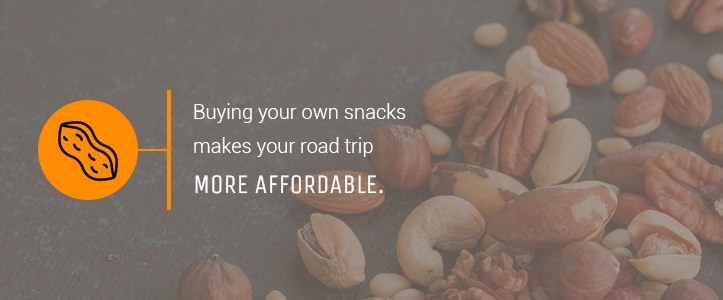 Purchase your snacks in advance, or if you are skilled at cooking, you can prepare homemade snacks for the road.
4. Breathable Clothing
Traveling by bus or car normally means long hours on the road to a far-off destination. During these long hours in a limited space, you might get chillier or warmer than your road trip companions. Bring breathable clothes that you can layer when cold or shed when the vehicle gets stuffy. Comfort is key when traveling on the road, so bring outfits that are fit for both leisure and sight-seeing.
5. Duffel Bag
Rather than bringing along bulky luggage, opt for a duffel bag. Duffel bags can provide more room for storage in your trunk because they conform to the shape of your vehicle and the surrounding objects. Duffel bags also have many compartments and pouches to separate your belongings. Road trips typically are more comfortable than glamorous, so you don't need to worry about keeping the wrinkles out of a dress or dress shirt. Instead, you can neatly fold all the sweaters, sweatpants and jeans you need in a duffel bag.
Road Trip Tips
Road trips are a fun get-away with many advantages. Check out a few more recommendations on what to pack and consider when traveling on the road:
Bring non-electronic games to engage and entertain the group.
Fill your gas tank before embarking. You never know if a traffic jam will keep you creeping along or at a standstill for hours.
If you have roadside assistance or have AAA, put your card in an easily accessible area.
Place a first-aid kit and a car emergency pack in your trunk.
Check to see if your route includes several tolls. If so, replenish your E-ZPass account and update any outdated information, or have cash handy.
Include wet wipes and small trash bags in your glove compartment — because cars can become messy quickly.
What to Pack for a Domestic Flight
Whether you are traveling domestically to visit family, take a vacation or do business, packing for a domestic flight is different than international trips. Bring these necessities and comforts to make your flight enjoyable:
1. Comfort Gear
Even if your flight is only a few hours long, travel comforts can make your experience better. Pack items that allow you to take a nap or save your neck from soreness. A neck pillow, sleep mask, and small blanket are fitting for domestic flights and make the seated time bearable.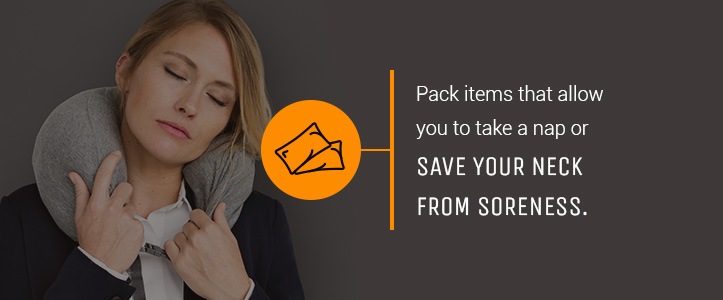 If your flight is late at night and you'd like to catch a quick nap before landing, these items will come in handy.
2. Snacks and Small Meals
International flights might provide more substantial drink and meal options, but domestic flights often have a much more limited refreshment selection. Similar to a road trip, you can bring your own small meals and snacks to keep yourself from getting too hungry, as long as you purchase them once inside the terminal.
3. Laptop or Mobile Device and Charger
You can use a laptop on your flight to catch up on work or for entertainment. Many planes have Wi-Fi, so take advantage. Pack your choice of mobile device to fill the time before you land. Remember to take a charger and possibly an extra portable battery if your flight is long, and don't forget to charge your tablet or e-reader before you get on the plane!
4. Non-Electronic Entertainment
Store non-electronic entertainment in your carry-on as a backup plan. A magazine, newspaper or book are still viable options to help the time pass on a domestic flight. In case the Wi-Fi is too slow to accomplish anything, or your electronic device's battery dies, pick up a paper version of your favorite story.
If you have a hobby you can pack in your carry-on, like knitting, you can use this as your entertainment for the flight. Journaling, writing letters or sleeping are other options.
5. Strategically Packed Carry-on
Your carry-on can hold more than you think, and if you pack it correctly, you can store many essentials for your flight. Your medication, contacts, wallet, fragile or valuable items should go in your carry-on so you can keep an eye on them. Checked baggage has a reputation for getting lost or delayed, but you can keep a carry-on close by.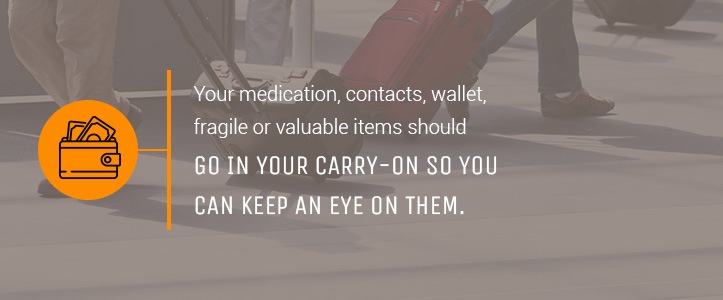 Make sure you follow the rules for carrying liquids. The TSA restriction limits you to 3.4-ounce containers of liquids, gels, aerosols, and pastes in a clear quart-sized bag, so you will need to select what you bring carefully. If you are trying to bring spreadable food, that is also considered a liquid — even peanut butter. Liquid makeup will also need to be stored in your quart-sized bag.
6. Versatile Travel Clothes
We all know people who walk out of the airport looking perfect — as if the hours of uncomfortable seating at high altitudes affected them in no way. In most cases, though, comfortable layers are the best choice for flying. Is it too cold or too hot on the plane? You won't find out until you board, and you must remain there until you land. Layering clothes will help you adapt to the in-flight environment. You can also avoid packing your bulkiest items by wearing them.
Domestic Flight Tips
Traveling within your country may seem simple, but you'll have to check your packing lists thoroughly. To help your packing and planning, here are a few more helpful tips:
Bring your license or official government ID.
Consider registering for TSA Pre-Check if you travel often.
If you can leave any non-essentials at home and purchase them at your destination, this can save you room in your luggage. Domestic flights usually take you to places with just as many conveniences as you have at home.
Remember to fully charge your laptop if you plan on using in-flight Wi-Fi.
What to Pack for a Cruise
Cruises offer a chance to different country ports, enjoy the ocean, dress up for elegant nights, and participate in fun activities. Some cruises might include international travel or day trips at certain ports, so preparation and packing involve documents and identification on top of regular packing. Depending on what you're looking for in a cruise, you can have leisure time or learn new skills and about different cultures. Take along these items to prepare for a relaxing time on your cruise:
1. Sea-Worthy Gear
Protection from the sun is essential on cruises, from being on deck to in the pool. For sea days, when you remain on the boat, you will likely wear a bathing suit and cover-up if you're going to a warmer climate, so take along a few options. You may want to wear water shoes, as well. If your trip takes you to a cooler spot, dress appropriately with sweatshirts, waterproof jackets, and other layers to make sure you stay dry and warm.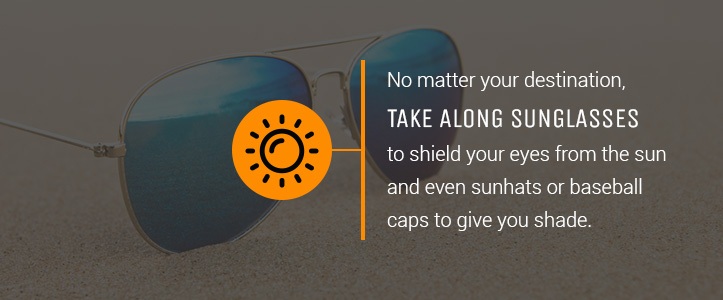 No matter your destination, take along sunglasses to shield your eyes from the sun and even sunhats or baseball caps to give you shade. Sunscreen is an important item to pack as well, and while you may not need it on the ship, bug repellent can be a good thing to have depending on the time of year and the location and the excursions you plan to do.
2. Adventuring Equipment
For days in port, you will likely have the opportunity to explore your stops. Typically, the port stops last five to nine hours, and they don't usually last overnight. You will need some gear to either go on organized tours or adventure on your own schedule. Excursions that include a lot of walking mean you need to take tennis shoes or other comfortable footwear.
Also, pack a backpack for your day trips so you can take along essentials. Once you are off the boat, you won't want to return just to grab your sunscreen or money. Be prepared with a small travel bag for these occasions. You can also stow souvenirs that you purchase at markets in your backpack.
3. Elegant Wear
Cruise lines often have a dress code for dinner and events. Passengers must dress up in fancier clothing for certain settings. Formal attire is a rule for many cruise dinners, and some restrict particular clothing types like jeans or flip-flops from the dining area to guide people's wardrobe choices.
Check your cruise line's regulations or preferences to know exactly what to pack. Include at least one or two dressier options for these times. An elegant evening gown or a dress shirt and slacks can be fitting to complete your cruise wardrobe.
4. Necessities to Survive the Sea
Traveling on the ocean can be difficult for many reasons. The motion of the waves can cause sickness and nausea for some people, while the sound of the water against the ship's hull might disrupt other people's sleep. Don't let seasickness ruin the fun activities and relaxation of your cruise. If you have a history of stomach weakness, you can pack motion sickness pills, patches or bracelets.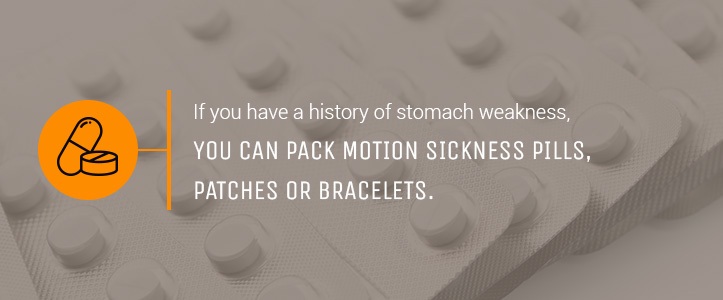 Hearing loud ocean sounds can be soothing for some people, but it can keep others from getting enough rest. Cruises also feature energetic fun that might disturb those going to bed earlier. For light sleepers, pack earplugs, a portable white noise machine, and a sleep mask.
5. Travel Documents and Identification
For cruises where your destination or ports are in foreign countries, you might need your passport, visa, birth certificate, proof of vaccinations or copies of other important documents. For certain countries, you will not be able to present a copy of the documents and will be required to bring the original.
In most cases, you won't need to bring that information with you if you debark the ship. Government-issued ID like a driver's license and the card for getting on and off the ship — as well as some cash and a credit card — are enough to suffice on land. Still, pack the certificates and documents that are required and double check with cruise staff as to what you need to take with you for excursions.
Cruise Trip Tips
Cruise trips involve many activities and settings that will change how you plan and pack for your vacation.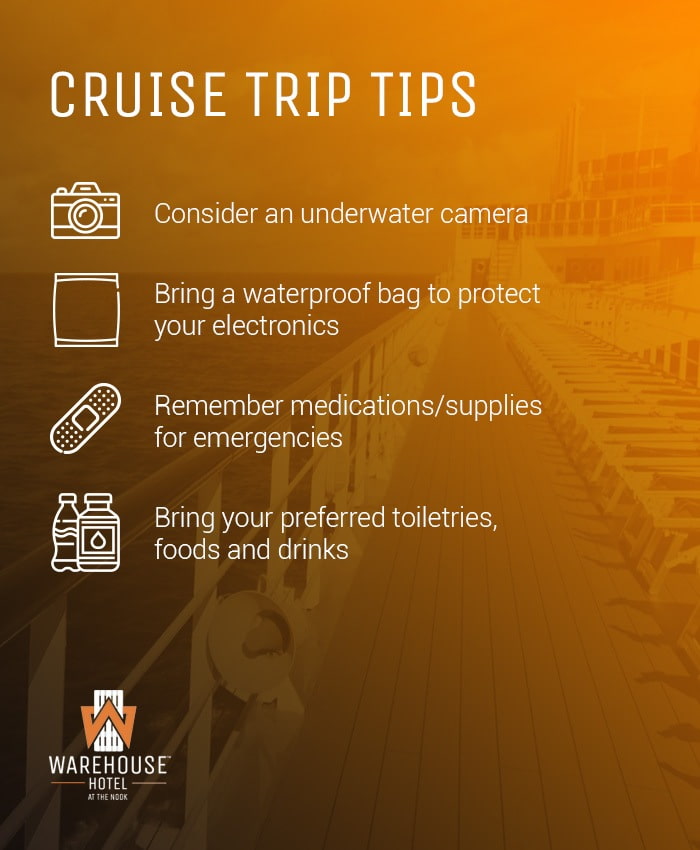 As you get ready for your next cruise trip, keep these other packing tips in mind:
Choose an underwater camera or waterproof bag to protect your electronics and important items.
Remember medications and other essential medical supplies for emergencies.
Bring your preferred toiletries, foods and drinks with you because it's not guaranteed that they will be on board.
What to Pack for an International Trip and Flight
International trips require even more preparation and consideration than staying within your own country. You must consider which of your electronic devices, currency, technology and other possessions need to be adapted for different countries.
Also, entering into a new culture can require a bit of research to bridge language or culture gaps. You may need to bring along a dictionary, or have access to a translation app on you phone, in the country's language or a guidebook for the area you are staying in. An unfamiliar environment can present many surprises, so pack these essential items and versatile choices to be ready for anything:
1. Important Travel Documents
Before you head out on your trip, you need to prepare your certificates and documents, so you can easily board your flight and enter a foreign country. Pack crucial documents and identification in your carry-on rather than in checked baggage. Even documents you may not need to retrieve right away, like health information and copied documents, should be accessible and safe in your carry-on. An updated passport is necessary to board the plane, and proof of the proper vaccinations is another essential document you must take with you.
2. Adaptable Technology
Other countries have small differences you might not expect, such as electrical sockets. International travel adapters can fix this issue, so pack one to ensure you can easily plug in your laptop or phone when you arrive at your destination.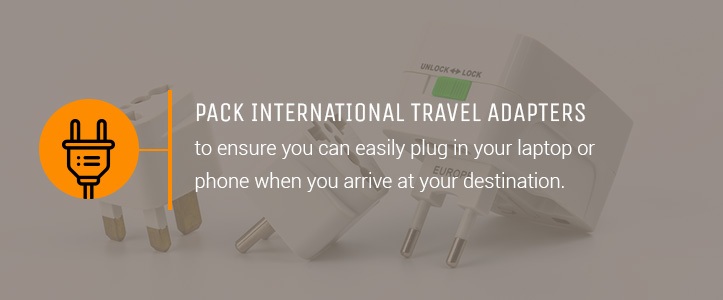 Also, if you want to use your phone in a different country, you will have to activate global capability with your carrier.
3. Functional Currency
Different countries have different currencies, so for ease, go to a currency exchange store or bank to get the correct currency before traveling. Currency conversion centers are more expensive and include fees, but your own bank or a bank in the country you're visiting will be more affordable. You'll also want to call your credit card company before you leave, so they don't freeze your account when they see purchases in a different part of the world.
4. Tickets, Guidebooks and Aids for Local Culture
Before you go to a new country, research the area. You can bring along a guidebook for the location you will be exploring to figure out the sights you'll see and the foods you'll try. You can also find local events and festivals in advance and purchase tickets to bring along, which will allow you to skip the lines.
You might also want to pack a dictionary in the country's language so that you can communicate better during your stay. Other supports to understand a new culture and language include flashcards with common phrases, phone apps and a personal translater tour guide.
5. Versatile Clothing
To have the best possible time on your trip, you'll want to be prepared for any weather. Pack clothing that is appropriate for a range of temperatures, the season and the location — after all, even tropical destinations could require a jacket or sweatshirt.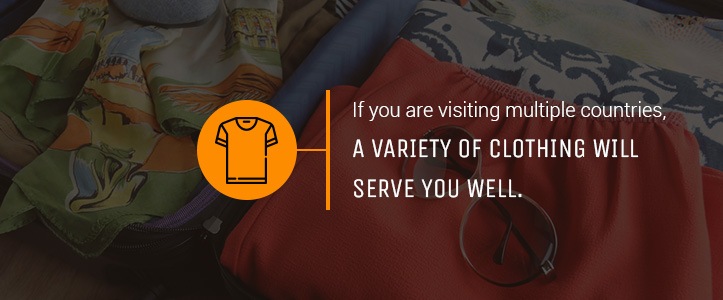 Especially if you are visiting multiple countries, a variety of clothing will serve you well. You might also want to pack things that take the typical clothing of the area into consideration to show your respect for that culture.
International Trip Tips
Traveling to another country and culture is a thrilling experience, but you want to be as prepared as possible for your trip. Check out these additional tips on what to bring and gather for your international flight:
Research the country you're visiting to find out if there is an entrance or exit fee.
Register with your embassy so you have extra safety when traveling. The connection to your government brings security.

Provide your family or friends with copies of your travel documents, passport, and itinerary.
Consider getting travel insurance.
Travel Accommodations
When you are traveling, you'll want to find comfortable places to stay. Hotels and other accommodations can provide a fun atmosphere with conveniences that enhance your travels.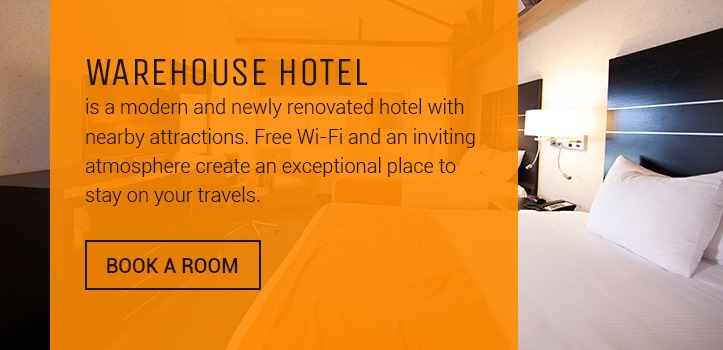 Warehouse Hotel is a modern and newly renovated hotel with nearby attractions. Located inside the Spooky Nook Sports Complex, this offers access to the athletic facility that features a fitness center and group classes. You can enjoy the Forklift & Palate restaurant inside the complex, which has breakfast, lunch, dinner and happy hour specials. Free ultra-fast Wi-Fi and an inviting atmosphere create an exceptional place to stay on your travels.
Take a trip to Spooky Nook Sports and stay at the Warehouse Hotel. Schedule your visit today.