Top Breweries to Visit in Lancaster County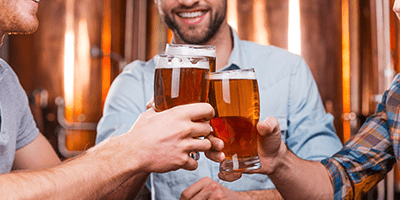 If you love the smell of hops and adore craft beer, Lancaster County is an excellent spot to visit. In recent years, it has developed a reputation as a top destination for artisan brews. When in the area, be sure to visit the best breweries in Lancaster, PA, including:
1. Appalachian Brewing Company of Lititz
Considered one of the top breweries in Lancaster County, Appalachian Brewing Company was founded in 1997 in a century-old brick building in downtown Harrisburg, PA. The brewing company offers flagship beers such as Water Gap Wheat Ale, Mountain Lager, Hoppy Trails IPA, Jolly Scot Ale and others.
Appalachian Brewing Company also creates seasonal and specialty brews, including Konig De Quad, Gravity Falls Brut IPA, Little "T" Saison, Nut Checker Nut Brown Ale and others.
The company also makes craft non-alcoholic sodas, including root beers, ginger beer and birch beer. Visitors can take a tour of the bottling facility, plus take advantage of brewpubs serving food in casual table seating spaces. The company also offers spirits, including rum, flavored vodkas, gin and whiskey.
2. Black Forest Brewery
Considered one of the top craft breweries in Lancaster, PA, this family business began after a trip along the Black Forest Trail in Pennsylvania. Black Forest Brewery offers a red ale, IPA, Märzen, pale ale, strong golden ale and Kölsch. New items are on tap regularly, so the brews often change. Their 42nd Mile IPA is among the most popular.
Black Forest Brewery offers a full menu of pub fare. Diners can enjoy wines, the company's brews, cocktails, charcuterie boards, snacks, flatbreads, soups, nachos, burgers and salads. Seating is at wood tables in a historic property.
3. Iron Hill Brewery
Iron Hill Brewery started in 1996, when friends Mark Edelson, Kevin Finn and Kevin Davies translated a passion for brewing beers into a business. Just a year later, one of the company's beers won a gold medal at the prestigious American Brewer's Association's Great American Beer Festival (GABF). Today, each location supports local charities and community causes.
The brewery makes many beers, including their popular and award-winning Pig Iron Porter, Iron Hill Light Lager, award-winning Vienna Red Lager, White Iron Wit, the Witberry wheat beer, Ore House IPA and others.
Iron Hill Brewery has multiple locations, and their Lancaster location has a full menu of starters, shareables, soups, burgers, sandwiches, desserts and more. The restaurant offers bar seating, tables and seasonal outdoor seating.
4. Lancaster Brewing Company
Lancaster Brewing Company is one of the best-loved craft breweries in Lancaster County, located in the historic Edward McGovern Tobacco Warehouse. This brewery has a range of beers, including lagers, IPAs, strawberry wheat beer, milk stout, chocolate stout and others. Over 20 brews are created yearly, and you can sample 12 of them on tap at the Lancaster Brewing Company location in Lancaster at any time.
Lancaster Brewing Company offers upscale food, including hand-cut fries, house-cured meats and handmade sausages, creating an elevated pub fare experience. There are tables and bar seating, plus outdoor seating in the summer.
Find the Perfect Place to Stay
Would you like to stay near one of these breweries, so you can enjoy tours and tastings? Book a stay at Warehouse Hotel, one of the most popular accommodation options in Lancaster, and be sure to check out our Stay & Play package that includes an old city history walk and visits to Lancaster's finest craft beer establishments.
Topics: Lancaster