The Ultimate Guide To Planning A Trip - Tips For Traveling
If you want to plan the perfect trip, it's something you shouldn't take too lightly. Spontaneous journeys sometimes work out, but planning will eliminate the initial stress.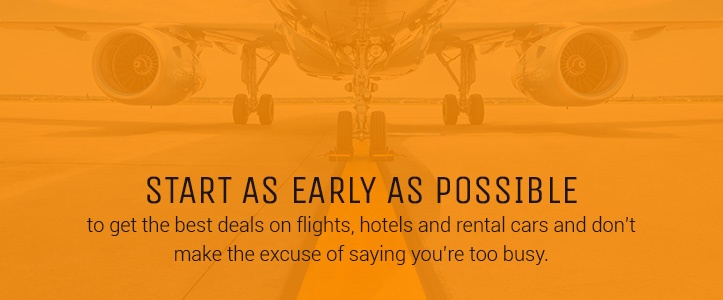 Arranging a vacation means a million things are running through your mind at once. Everything from what to pack, where to explore, the safety of the area, and how much money you will need, is a lot to consider at once. If you don't take your time planning, you can end up forgetting half your clothes and have no idea what to do when you get to your destination.
However, it doesn't have to be stressful when you use the following outline of helpful tips to get you on the right path. It's also important to be flexible which will give you more travel options. You may have your heart set on a particular hotel and flight, but give yourself other options as well to make for a smoother transition.
Your trip can encompass all sorts of adventures like camping, beaches, theme parks, concerts or a random spot on the map you find interesting! And if you're wondering when the best time to plan a trip is, it's now! Start as early as possible to get the best deals on flights, hotels and rental cars and don't make the excuse of saying you're too busy. Plan a trip and make it happen regardless of how much of a crazy schedule you have — because let's face it — everyone can benefit from a break away from the daily grind of work and school.
And every so often the journey is as extraordinary as the final destination.
What to Do Before Getting Into the Travel Details
The biggest question often revolves around your destination. City or country? Summer or fall? Traveling abroad? The whole world is at your fingertips whether you want to road trip from coast to coast, fly to a remote island or take the train. Once you finalize your destination, your next step is to pick a date. Seems simple, right?
Choosing the right time of the year, month and week to travel can prove to be a bit difficult. You may have to consider other's schedules when requesting off weeks in advance from work. Of course, many people choose summer, although you may want to pick non-peak times like the beginning of fall or mid-spring to avoid higher prices and crowds. It's all up to you!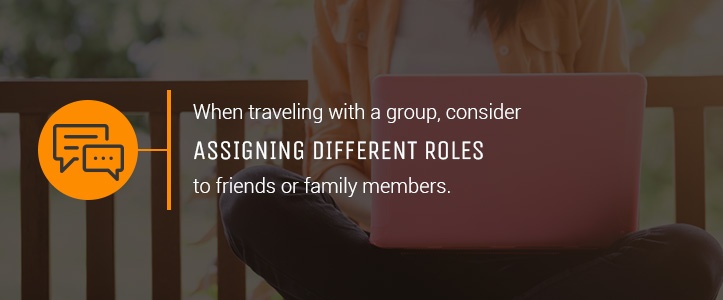 When traveling with a group, consider assigning different roles to friends or family members by determining who's in charge of travel snacks, playlists, gathering other necessities and choosing different attractions to see. For instance, if you're taking a road trip, the driver is the driver, the shotgunner is inevitably the vocal GPS and the backseaters are there as snack distributors.
After deciding on a destination, dates, and people whom you're traveling with, you need to budget for vacation. Start with an overarching amount you're willing to spend then distribute it out among the essentials first like travel and hotels. Then you can start to budget for activities and food. Always bring emergency funds in both cash and credit card for surprise situations.
You will also want to consider holiday traveling. Fly on less desirable days during non-peak times and even try to bargain better deals for people looking to book last-minute reservations. If you're traveling with children, avoid any mishaps by securing tickets ahead of time instead of waiting for "last minute deals". Always add a cushion to travel times to allow for bathroom breaks, meltdowns, illnesses or other delays and always bring lots of snacks.
Gearing up With the Essentials
No matter where you're headed, steps for planning a trip begin with the essential items. Definite things to never forget to pack for any vacation are as follows:
Camera
Clothing
Credit cards and cash
Driver's license
First aid kit
Health insurance card
Hotel information
Medications
Mobile devices and chargers
Pain, fever and allergy relievers
Passports for international vacations
Plane, train or bus ticket
Sleeping gear
Sunscreen
Contact lenses or eyeglasses
Toiletries
Of course, this is not everything you will need on a trip, but these are the most critical items people find necessary for any vacation. One of the easiest ways to make sure you're prepared on every level is to create a list of everything you will need. The first step in planning a trip is making a list and then checking items off as you go.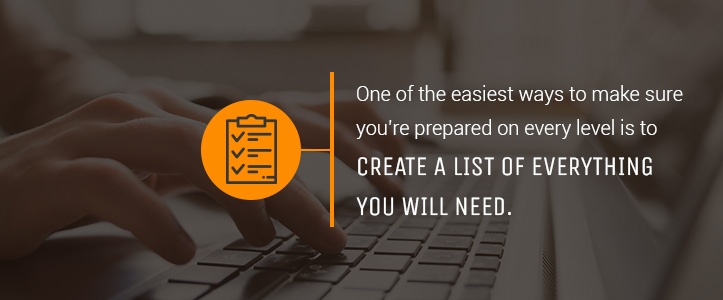 We also suggest taking it day by day. For example, play everything through your head. The first day is for traveling. What will you need in the car, plane or bus? From there, go through what you'll be doing each day and determine necessary items. What will you wear for hiking up a trail or lounging at the pool? Will you need a jacket for one adventure and a swimsuit for the next? Plan it out step by step and you should cover everything.
Evaluating Transportation Costs
You're mentally prepared for where you're traveling, what to pack and how to budget, but how will you get there? Will it be by car, plane, train or bus? While you may already have an idea in your head, it's vital to evaluate all your options to discover the most cost-effective route or the travel method you'll enjoy the most.
If you're traveling across the United States and with a group, is it cheaper for each person to buy a plane ticket, or split up the cost of gas by taking a car? If you fly, you might still need a car at your destination. Does it make more sense to rent a car or take taxis? If you plan on traveling from one spot to the next, a rental car may be ideal. But if you will be in one place with occasional adventures out of the area, public transportation or calling for a car service could be a better option.
If you travel to big cities like Chicago, Boston, NYC, Miami or San Francisco, you can rely on car services, rental cars or public transportation. These options can save you money but you should also consider the stress of driving through traffic during peak hours. It's also important to think about the cost of parking your car at a city hotel. While most hotels don't require you to pay for parking if you're out in rural or suburban areas, you'll most likely have to do so in a city.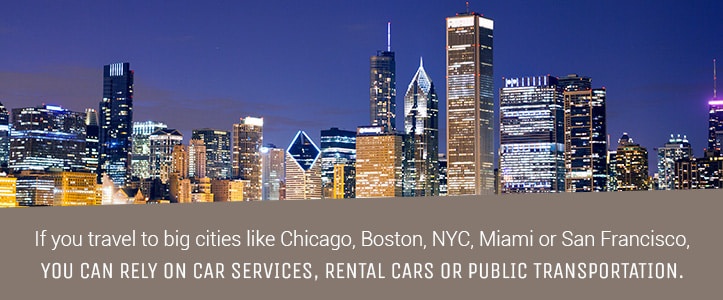 You can always check for a local public transportation website to learn about fees and how to navigate the system whether you'll be dealing with buses, trollies, or trains.
Again, it's imperative to plan for your vacation expenses so you don't underestimate. Always make sure you know your travel route, what gate your plane arrives in and what bus you're taking. If you're driving, look into traffic patterns, places to park, toll roads and the full cost of travel. Are you flying? Check flight delays before arriving as well as throughout your time sitting in the airport. Think about fees for checked bags and even strollers.
As part of defining your destination in the early planning stages, evaluate the cost of flights as soon as possible to see what deals are available. You can use various flight comparison sites to find the cheapest option that departs and arrives at the appropriate airports. To book the cheapest flight, use these tips:
Start searching three months ahead of time
Book flight between six and eight weeks before departing
Don't wait for the cheapest deal as you may miss your opportunity, but look for ones in your price range
Be flexible which will save you money when it comes to departure times
Research the highest and lowest costs of a particular flight and choose one in the lower middle range to ensure you still receive a good deal. This goes for train and bus rides as well.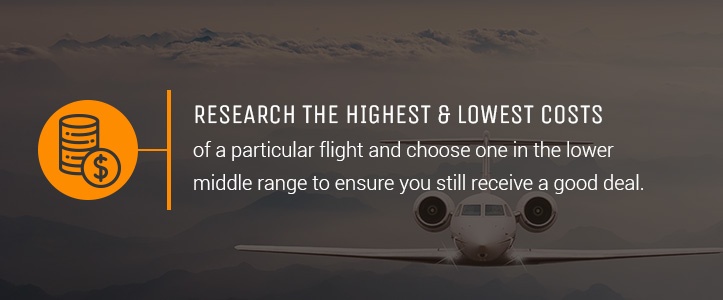 Planning how you'll get to and from a location is a large part of your transportation costs. But don't forget to budget for other common travel expenses, like baggage fees and food/meals on the road.
Preparing Your Hotel Accommodations
Similar to booking your flight or buying a train ticket, our tips for planning a trip include preparing your hotel accommodations as soon as possible. Waiting last minute can often mean an upcharge in price, not to mention a lower availability of rooms to choose from. Start your search well in advance to receive ideal arrangements and book accommodations that fit your lifestyle.
Starting with a simple Google search can bring up dozens of options. Never settle for the first hotel you see, but instead, write down a few things you're looking for. Do you want just the basics of a bed and shower? Or are you searching for something with more amenities, such as a pool, two separate rooms, Wi-Fi, a gym and free breakfast? Some people like the bare minimum while others want as many features as possible.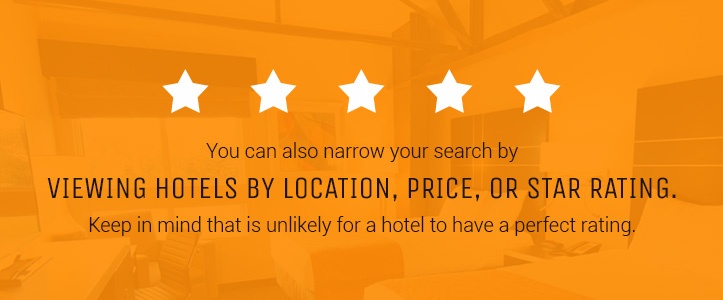 You can also narrow your search by viewing hotels by location, price, or star rating. You can book one with an ideal location to all of the fun things you want to do which will reduce additional travel costs. Or you can focus on the lowest price, even if it's not in the center of where you want to be. For example, a hotel in the center of Manhattan at Times Square is where prices may increase above your comfort level compared to hotels in neighboring New Jersey. While it is generally accepted that a 5-star hotel is probably nicer than a 1-star hotel, there is not a universal scoring system. Therefore, it is important to understand the meaning of hotel star ratings to become better informed about the hotel you have your sights set on before booking. Keep in mind that is unlikely for a hotel to have a perfect rating.
Continue your search and view the most popular lodgings as well. You may want to rely on one of the top picks if you're headed to a place you're unfamiliar with to ensure you get a good feel for the location. It's okay to be picky. Make sure to read hotel reviews because people are honest about whether they had an excellent stay or if they didn't like a few things.
Before you make your final decision, always look at the hotel's fine print for extra fees, policies regarding children, pets, smoking and other information. You want to pay special attention to cancellation policies and refund options so that if you need to cancel a room, you understand any costs incurred from doing so.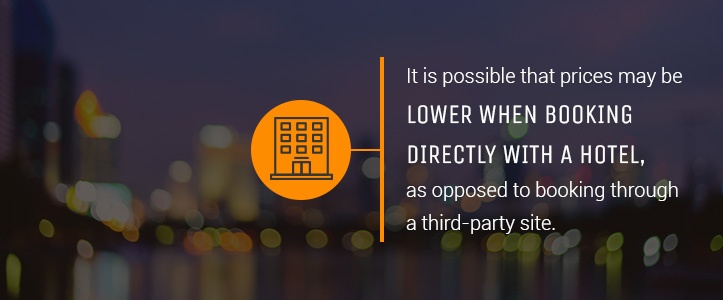 When you are sure that you've found the best hotel and you are ready to book a room, take one last step to make sure you are getting the best price. It is possible that prices may be lower when booking directly with a hotel, as opposed to booking through a third-party site. With your online quote in-hand, call the hotel directly and request room rates, making sure to ask about any AAA card member discounts, AARP discounts, and whether the hotel is running any promotions - anything that could lower the price. If the hotel provides a quote that is higher than the online quote, ask the hotel to match it. If the hotel is unable to match the online quote, simply proceed with the booking online. For the minimal time and effort of calling the hotel before booking online, there can be savings that are well worth it, you won't know until you ask.
Reserve your room once you found the best price, location, and amenities - another trip planning item is ready to be checked off the list!
The Fun Part of Our Travel Planning Tips: Sightseeing
Have you ever been on vacation with someone and the entire trip seems like a breeze? No one's ever standing around wondering where to go or what to do? While it may seem simple, there's a good chance the person in charge did excessive organizing regarding what sights to see and when — which is what made it a stress-free trip.
Now that you have your transportation and hotel figured out, you can start the fun part of planning your adventures. Here are a few tips on planning activities during your trip.
Don't overbook your vacation. It's easy to get carried away when there are so many things to do. Between deciding where to go for lunch and what attractions to see, you may soon have scheduled every hour of every day. But as soon as you begin overscheduling, it can become stressful and no longer fun. Instead, choose a few key highlights throughout your stay and leave the rest of the time open for discovering new things.
Know the peak days and times of visiting an area. Research when most people visit an attraction including the month, day and specific time. If you don't mind crowds, then you're set. But if you prefer to avoid further chaos, go during the least popular time.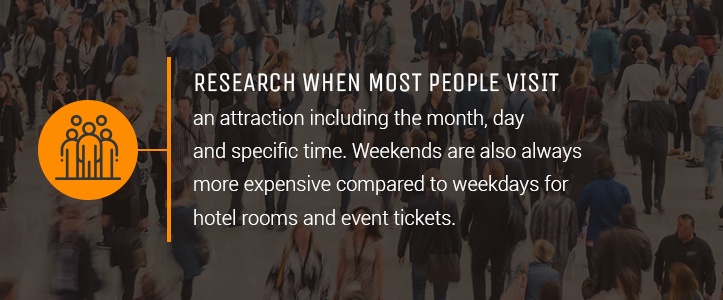 For example, visiting the Grand Canyon will be more crowded in the summer as opposed to winter, any beach will be filled with people on the weekends and NYC is most populated during Christmas-time instead of March. If you're planning a holiday trip, know that the busiest time of the year to fly is the Wednesday before Thanksgiving. Along with busier locations, you must also consider the fact that peak times also mean higher hotel and transportation costs. Weekends are also always more expensive compared to weekdays for hotel rooms and event tickets.
Plan as early as possible. If you're thinking about taking tours, seeing a play or attending a particular event, order your tickets weeks in advance. Make sure you know where ithe event is located and the travel time so you don't arrive late for a time-sensitive event such as a Broadway show.
Start and end on a good note. Whether you like to celebrate with a fancy dinner or a high adrenaline adventure, begin and finish the trip with two of the best activities and sightseeing experiences. You will want to kick it off with something positive and complete your trip with a satisfying event.
Spice it up every day. Don't get stuck in the rut of doing the same thing each day. Begin your morning routine differently and let it progress throughout the day. A variety of undertakings will keep everyone entertained and will help you tour new areas.
Don't forget to rest. While you want to get the most out of your incredible vacation, if you're not sleeping or taking breaks, it can lead to sickness, fatigue, or dehydration.
Be aware of your budget. You may have done a great job of planning your transportation, accommodations, and meals, but you also need to keep in mind how much each activity will cost and for how many people. In a 2017 survey, 74 percent of people admitted to going into debt after a vacation, so don't be like them!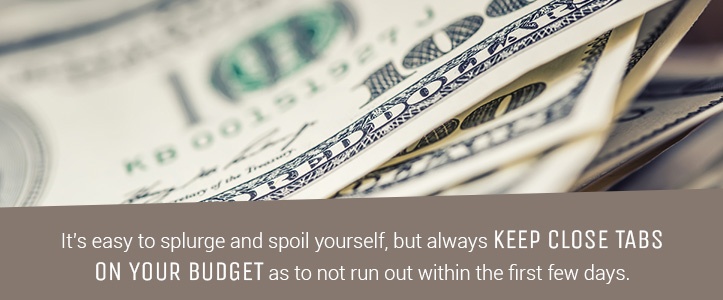 It's easy to splurge and spoil yourself, but always keep close tabs on your budget as to not run out within the first few days. Remember to plan for fun and any potential souvenirs.
Choose something everyone can take part in. If children are attending the trip, plan adventures they can enjoy as much as you. For adults, plan activities each person will love, such as a brewery tour for beer enthusiasts or museum visits for those interested in history.
How to Plan a Vacation by Staying Connected
It's all about being in the know — and that's even truer when you're traveling to an unfamiliar place.

Learn how you can use these best free travel apps for your next trip:
AroundMe: AroundMe is a mobile app where you can find nearby points of interest during your vacation. You can search for things such as restaurants, hospitals, airports, parks, movie theaters, hotels, gas stations and other attractions. The app uses the navigation system on your phone to determine your location and sees what attractions are around you — hence its name. You can keep a "favorites" tab or search using the "nearby" tab.
Yelp: The mobile app Yelp provides users with reviews of local business whether it be a coffee shop, clothing store, local attraction or a hotel. Users submit reports of local establishments regarding products or services to notify others about their experience. It's an excellent networking source to help you find appropriate and fun things to do.
TripAdvisor: TripAdvisor provides users with restaurant and hotel reviews along with hotel booking options and other travel-related information. You can speak with other people through an interactive forum to learn about different places in a given area. It has more than 630 million opinions and reviews and covers about 7.5 million airlines, accommodations, restaurants, and experiences!
OpenTable: It's often tricky to find a place to eat that everyone loves and to find a table that accommodates your whole crew. But when you use OpenTable, making a restaurant reservation is easy. The online reservation service encompasses more than 30,000 restaurants in almost all states in the U.S.
Google Translate: Google Translate is a translation machine that converts various languages. The multilingual service translates text you type into the app and gives definitions and pronunciation. It supports more than 100 languages and helps about 500 million people each day whether they want to know how to say "hi" in Spanish or "goodbye" in Japanese.
WhatsApp: When you download WhatsApp to your phone, you can keep in touch with friends and family via photos, text messages, videos, location sharing, documents and more. It serves more than one billion people in the world in about 180 countries. You can use its secure, simple and reliable services anytime and anywhere from any smartphone across the world.
Book Your Accommodations in the Warehouse Hotel at the Nook
Stay in our newly renovated hotel that has 135 rooms for our guests to enjoy. Located inside the Spooky Nook Sports complex, the Warehouse Hotel has modern-style vibes and free WiFi. When you stay with us, you will have access to the sports facility and fitness center along with group classes. You can also dine at Forklift & Palate for breakfast, lunch and dinner. And the best part? Anyone can join us whether you're here for a sporting event or discovering Lancaster County.
Visit us online to prepare your hotel room for your perfect vacation.